Here's the second "furniture re-finishing" project I've completed. Inspired by
All Things Thrifty.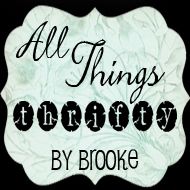 Bailee has a TV tray down in her room that she likes to use as a desk, but TV trays are flimsy and there's not much surface area to work with! I thought it would be fun for each of the girls to have their own desk, so I started shopping on KSL. I found this one for $20. Here's a shot of it, after I had sanded the top and sides.
I don't think it's necessary to sand it all the way down to the raw wood, just rough it up a little so the paint sticks better.
I used Krylon spray paint again. Bailee got to choose the color all by herself! She chose Blue Ocean Breeze.
And then after the glaze. I used some that my SIL gave me, which was a Ralph Lauren faux glaze w/ black silk.
I'm still working on her dresser. I hope to get all of these projects done within the next few weeks. It's been so cold outside lately that I can't get the painting done. (I do it in the garage). Now that we have a warmer week coming up I can hopefully get a bunch of them painted. :)